---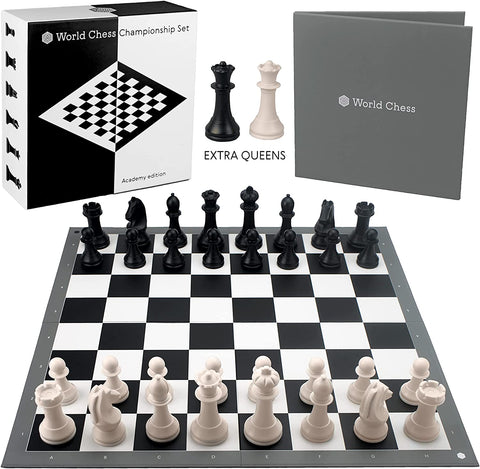 World Chess Championship Set (Academy edition)
---
CLASSIC CHESS SET with new staunton design with chess pieces and chess board. Ideal for Christmas and birthday gift for chess lovers. Chess pieces are made of high quality ABS plastic, king height is 3'4'' inches and queen height is 3'11 inches, including 2 extra queens which make this set ideal for tournament play!

UNIQUE CHESS SET for adults and kids, best chess set for travelling. This chess set repeats the design of the famous Championship chess set used in the official FIDE tournaments. The most comfortable plastic chess set to play with. The weighted chess pieces are very comfortable to hold and play your favourite game.

IDEAL CHESS GIFT - professional chess set of the Chess Championship Match. All FIDE official tournaments are plyed with this design sets. The set was designed by Pentagram Studio London specially for World Chess. Chess sets for adults unique and travelling chess set

PORTABLE CHESS SET - it is nice chess set for school and tournaments. It comes in a nice drawer box. The foldable chess board made of carton ideally fits the box. Travel chess set in a nice designed box. Chess board size is 17'68x17'68 inches with squares 1'97x1'97 inches. The knight base is 1'45 inches and extra queens which make chess set best for tournament play.

STAUNTON CHESSMEN with the modern design. The chess pieces are very well-weighted, taking into account, that this is a plastic set. The unique design of the chess pieces was created by the prominent architect Daniel Weil for championship chess matches. The pieces are the most ergonomic among the existing plastic chess pieces.
---
More from this collection